Fly Fishing
The Lower Sacramento River - Redding, Anderson, Cottonwood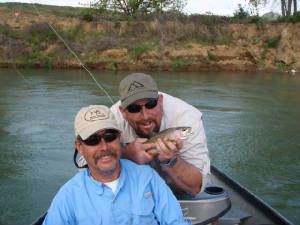 In the spring while the Trinity is slow we move our trips to the Sacramento River. On the Sac our trips are fly fishing catch and release only. We can drift through downtown Redding, under the Sundail Bridge, to and around Anderson, all the way below Cottonwood. Bring your shorts and sunhats, the days are warm and relaxing as we float down this beautiful river.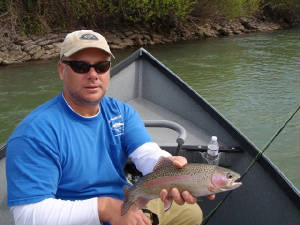 The insect life can be incredible with blizzard caddis hatches; the sac also has lots of mayflies and stones. If you're new to fly fishing or just need a relaxing refresher, this is the place to go. The numbers of fat hungry wild rainbows are amazing. And we may even catch a small mouth bass around one of the many creeks that flow into the Sac as we pass.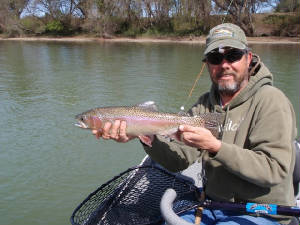 click to enlarge
The wildlife along the Sac is abundant even though it flows through a city of 100,000 people. Beavers, RiverOtters, Deer, Raccoons, are just a few we see daily. The bird Life is amazing, in the spring the baby ducks and baby Canadian Geese are all over, along with Eagles ,Osprey, and Wild Turkeys. As we drift we watch for Swallows diving after hatching insects, one of the first signs of a great Sac Caddis hatch.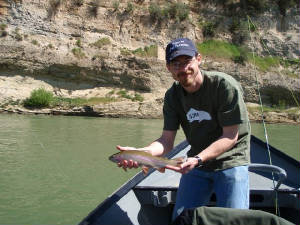 We usually start our Sac trips mid morning and fish through the afternoon into evening taking advantage of the hatches. Most of or fishing is indicator nymphing, although I will always have a dry fly rod ready. We fish from the driftboat all day so waders are not worn. This area gets hot in the late spring and summer, too hot to wear waders all day. If you want to wade fish, bring the waders along for the last hour of the day when the Caddis hatch goes wild.